L'Ing. Daniele Ponteggia è laureato in ingegneria elettronica presso l'Università degli Studi di Perugia, abilitato all'esercizio della professione di Ingegnere è iscritto all'Ordine degli Ingegneri della Provincia di Terni.
Tecnico competente in acustica ambientale.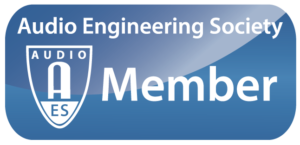 Membro della AES Audio Engineering Society. Partecipa ai gruppi di lavoro "Acoustic and Sound Source Modeling" e "Loudspeaker Modeling and Measurement" della Audio Engineering Society.
Opera principalmente come consulente nel campo dell'acustica architettonica e dell'elettroacustica con particolare esperienza nell'utilizzo dei software per la misurazione e la simulazione acustica CAD.
Pubblicazioni
Di seguito una serie di articoli pubblicati come autore o co-autore, alcuni scaricabili gratuitamente dalla biblioteca on-line AES:
Ponteggia, "Dipendenza dello Speech Transmission Index dalle condizioni al contorno nel caso di sistemi elettroacustici di tipo distribuito"
49° Convegno Nazionale AIA, Ferrara 7-9 giugno 2023
Ponteggia, "On the Specification of Threshold Limits in Speech Transmission Index Assessment of Distributed Sound Systems"
152nd AES Convention 2022, The Hague
Ponteggia, "An Open Source Turntable for Electro-Acoustical Devices Characterization"
151st AES Convention 2021, Online
Magalotti, Ponteggia, "Use of Wavelet Transform for the Computation of Modal Decay Times in Rooms"
147th AES Convention 2019, New York
Ponteggia, "Cycle-Frequency Wavelet Analysis of Electro-Acoustic Systems"
143rd AES Convention 2017, New York
Ponteggia, "Loudspeaker Electrical Impedance Measurements Methods: A Brief Review"
137th AES Convention 2014, Los Angeles
Ponteggia, Di Cola, "Applications of Inverse Filtering to the Optimization of Professional Loudspeaker Systems"
135th AES Convention 2013, New York
Facondini, Ponteggia, "Adaptation of a Large Exhibition Hall as a Concert Hall Using Simulation and Measurement Tools"
134th AES Convention 2013, Rome
Ponteggia, "Statistical Analysis of Electro-Acoustic Measurements Sets Using Scilab"
131st AES Convention 2011, New York
Panzer, Ponteggia, "Inverse Distance Weighting for Extrapolating Balloon-Directivity-Plots"
131st AES Convention 2011, New York
Di Cola, Ponteggia, "Application of Optimized Inverse Filtering to improve Time Response and Phase Linearization in Multi-way Loudspeaker Systems"
129th AES Convention 2010, San Francisco
Ponteggia, Carlisi, Manzini, "Electrical Circuit Model for a Loudspeaker with an Additional Fixed Coil in the Gap"
128th AES Convention 2010, London
Facondini, Ponteggia "Acoustics of the Restored Petruzzelli Theater"
128th AES Convention 2010, London
Di Cola, Cinanni, Manzini, Nizzoli, Ponteggia,"Design and Optimization of High Directivity Waveguide for Vertical Array"
127th AES Convention 2009, New York
Ponteggia, Di Cola, "Time-Frequency Characterization of Loudspeaker Responses Using Wavelet Analysis"
123rd AES Convention 2007, New York
Di Cola, Hadelich, Ponteggia, Saronni "Linear Phase Crossover Filters Advantages in Concert Sound Reinforcement Systems: a practical approach"
121st AES Convention 2006, San Francisco